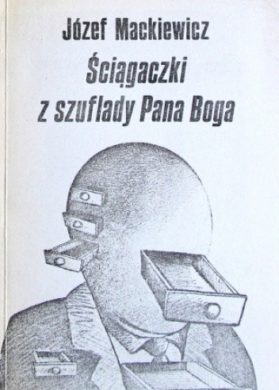 Under every; II edition of Ściągaczki z szuflady Pana Boga ('Squeegees from the drawer of God')
'Ściągaczki z szuflady Pana Boga' is a collection of ten short stories by Mackiewicz, selected from the volume '16 between the third and seventh' published in 1936 and from the collection 'Under every sky', published in exile.
A reader accustomed to the style of harsh criticism and historical facts often cited by Mackiewicz, this book may surprised, because history, politics are either absent here or somewhere far away. The action of the stories, despite the fact that it usually takes place in a specific time and space, can actually take place "under any sky" and it touches on matters as universal as private and final. The exceptions are typically Mackiewicz's two pieces: Aunt Pafcia's Faux pas and Ślizgawka.