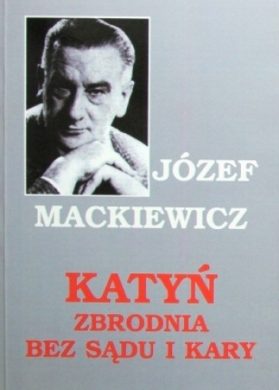 Crime without penalty and punishment. Case of the Katyń massacre
This is a book dedicated to the Katyn massacre. It was first published in 1949, in Switzerland, in German language under the title Katyn – ungesühntes Verbrechen, then published in translations into many languages. The first edition of the book in Polish was published in Warsaw in 1997.
In 1951, the book was printed in English – The Katyn Wood Murders. Then in French, Italian (Il Massacro della foresta di Katyn, 1954), Spanish (Las Fosas de Katyn, 1957), Portuguese and Russian (the Russian edition, titled Катынь, was published in Canada in 1988). For many years, it was the only book about Katyn in German language, although it was not officially distributed in Germany – it was imported from abroad and sold by private individuals.
n 2009, Józef Mackiewicz's book was published in London, in Polish language, under the title "Sprawa mordu katyńskiego".