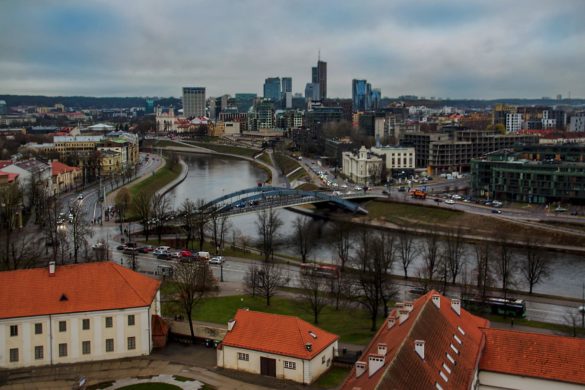 Vilnius in the lead role – a crime story with a motive
Sherlock Holmes in Great Britain, Nat Pinkerton in America and in Vilnius, Commissioner Mańkowski. "Vilnius crime novel" written in 1933 by Stanisław Mackiewicz, Józef Mackiewicz, Jerzy Wyszomirski and Walerian Charkiewicz is undoubtedly one of the most interesting crime novels set in the Vilnius Region. The main…
Sherlock Holmes in Great Britain, Nat Pinkerton in America and in Vilnius, Commissioner Mańkowski. "Vilnius crime novel" written in 1933 by Stanisław Mackiewicz, Józef Mackiewicz, Jerzy Wyszomirski and Walerian Charkiewicz is undoubtedly one of the most interesting crime novels set in the Vilnius Region.
The main character and narrator of the novel is Commissioner Mańkowski, who investigates the kidnapping of the daughter of the Vilnius voivode by unknown perpetrators. The novel retains all the elements of a sensational novel: shootings, chases and escapes. The action takes place in Vilnius, Krakow and Paris.
The alleged author of this detective story was Felicja Romanowska. The editorial staff created the character with all seriousness as a young person, with progressive, feminist views, a woman full of initiative and inventiveness. She even placed a photo of her on the pages of the "Word" magazine and conducted an interview. Most readers guessed that it was a fictional character, but not everyone knew who was hiding under it. Fortunately, there is a statement by the magazine's editor-in-chief clarifying the contribution of individual authors in the creation of the novel.
The editors of the newspaper, taking advantage of the reader's "habituation" to novels of this kind, at the same time directed his attention to regional issues. The possibility of recognizing one's own environment and known places undoubtedly encouraged reading. Reading fragments of this detective story, one can recognize, among others, Bernardyński Garden, Mostowa, Mickiewicza, Ostrobramska and Nowogrodzka Streets, selected houses, cafes, pastry shops, restaurants, hotels and gardens. The detailed outline of these places shapes the space in an extremely realistic and even naturalistic way.
In the story, the authors of the text also included figures known to the inhabitants of the Vilnius Region. Most often they were representatives of the city's intelligentsia, especially the scientific and cultural environment. Although they usually did not mention them by name, it was not difficult for readers to recognize them. Sometimes an allusion to a position, ridiculous habits or customs was enough.
An important feature of this detective story is undoubtedly humor. The authors were able to openly mock the opponents of the magazine. These assumptions were the basis for, among other things, the arrest of the antagonist of the "Word" newspaper publishing in "Kurier Wileński". The novel also contains jokes about friends of the magazine and even the writers themselves.
The communist theme plays a key role in the novel. The authors of the novel portray the communists as much more dangerous than the criminals. To implement their ideas, they can murder and rob civilians. The formulation of this view is one of the most important messages of the authors.
As you can see, "Vilnius Criminal Novel" is an unconventional work for this genre, which, despite criminal threads, also touches on many important and current topics for the society of that time, presenting them in a funny and attractive way for a wide range of readers.
Sources:
Grzegorz Eberhardt "A Writer for adults. The Tale of Józef Mackiewicz "
Tadeusz Bujnicki, "Vilnius crime novel by Felicja Romanowska against the background of newspaper crime novels in the episodes of "Word" and "Kurier Wileński""
Translated by Joanna Zawalska