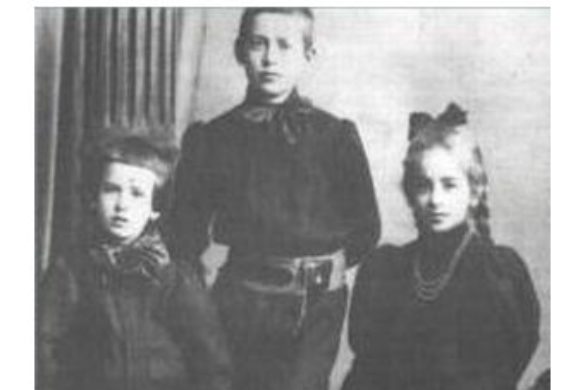 Józef Mackiewicz's family
Józef Mackiewicz's family came "from an old noble Lithuanian family". His father, Antoni Mackiewicz, came from impoverished nobility of the Boża Wola coat of arms, with the nickname Jańcza. Józef Mackiewicz's grandfather, Bolesław Mackiewicz, was exiled to Siberia for participating in the January Uprising and died there. Antoni…
Józef Mackiewicz's family came "from an old noble Lithuanian family". His father, Antoni Mackiewicz, came from impoverished nobility of the Boża Wola coat of arms, with the nickname Jańcza. Józef Mackiewicz's grandfather, Bolesław Mackiewicz, was exiled to Siberia for participating in the January Uprising and died there. Antoni started his career working in a wine shop. It was manual work. Then he continued his career as the director and co-owner of Fochts i S-ka. Józef's mother, Maria Pietraszkiewiczówna, was born in 1874, she came from Krakow from a professorship and literary environment. Maria's father, Ksawery Pietraszkiewicz, was a lecturer of physics and mathematics. The future mother of Mackiewicz came from a large family.
Antoni Mackiewicz at the age of thirty-six met twenty-two years old Maria in Krakow. Soon the couple got married.
Initially, they lived in St. Petersburg, their children were born here. In 1896, Józef's older brother Stanisław was born, also a journalist, publicist, writer and politician, using the pseudonym Cat. Then his sister Seweryna was born and on April 21, 1902 – Józef Mackiewicz himself. The brothers differed significantly. The older one, Stanisław, was frail and quiet, learned to read at the age of four, and from then on, he was only interested in books. The younger brother Józef was cheerful. The aunts called him a "wild strawberry". He liked stuffed animals and building with blocks. He learned to read at the age of seven.
In 1907, the family moved to Vilnius and lived in a house bought by their father at Witebska Street 1. At that time, Józef Mackiewicz attended the private gymnasium of Winogradowa. After graduating from the 3rd grade, he moved to the newly created Polish Junior High School of the Association.
The family life of the Mackiewiczs, apart from work and raising children, was filled with meetings with neighbors and relatives, all holidays were solemnly celebrated. In the house of the Mackiewiczs, "a cult for belles-lettres flourished". The mother read the Sienkiewicz Trilogy to her children, Seweryna read all the works of Shakespeare and Słowacki in her childhood. Six-year-old Józio received Dyakowski's book "Our forest and its inhabitants" as a Christmas gift, thanks to which he learned to read.
On May 12, 1914, Antoni Mackiewicz was seriously ill – he died the next day. In June, Mrs. Mackiewicz, with her daughter and Józef, left for Ciechocinek. Here, in August 1914, they were met by the outbreak of the war, which changed the life of young Józek forever.
Maria Mackiewiczowa died on August 22, 1932. She was buried next to her husband in Vilnius, at the Rossa cemetery.
Bibliography:
Seweryna Orłosiowa "Kronika rodzinna"
Włodzimierz Bolecki "Ptasznik z Wilna. O Józefie Mackiewiczu. Zarys monograficzny"
Translated by Joanna Zawalska