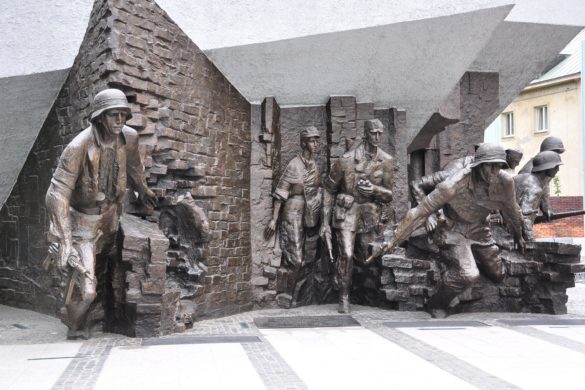 Józef Mackiewicz about the Warsaw Uprising
Józef Mackiewicz did not condemn the decision to start the Warsaw Uprising. He believed that the Polish government-in-exile should use the Polish blood shed during the uprising in hard negotiations with the allied countries – the United States and Great Britain. World public opinion had been extensively informing…
Józef Mackiewicz did not condemn the decision to start the Warsaw Uprising. He believed that the Polish government-in-exile should use the Polish blood shed during the uprising in hard negotiations with the allied countries – the United States and Great Britain. World public opinion had been extensively informing about the course of the uprising. It was definitely on the side of the heroic Poles. Never before had there been so much information about Poland on the front pages of newspapers during the war as at that time.
The writer was perfectly aware that the Soviets were very keen, already in 1941, for the Home Army to start an uprising against Germany, that Soviet radio stations would provoke the fight, although their effectiveness on Polish society should not be exaggerated.
Józef Mackiewicz returned to the subject of the Warsaw Uprising in the article "Warsaw Uprising from Another Side" published in London's "Wiadomości" No. 20 (59) of 1947. A lot of texts were devoted to the Warsaw Uprising in emigration magazines, but the author of "A Road to Nowhere" believed that all the texts did not touch the heart of the matter – they avoided the unequivocal statement that the Soviets were our enemy as much as the Germans, that somewhere in the minds of publicists there is still a splinter of the term "an ally of our allies" to describe them. He considered this approach to be a distortion of the meaning of the uprising.
Józef Mackiewicz talked about his experiences in Warsaw just before the outbreak of the uprising. He left almost at the last moment – on July 31 at twelve noon. Thus, he knew the situation well several dozen hours before the "W" hour.
The retreat of the German army was in full swing. In the last days of July, it reached its peak, and with it the inevitable mess. (…) There was no longer order or control.
In such conditions, the uprising, which broke out only on August 1 in the afternoon, could count on complete success and minimal losses, at most in skirmishes with the retreating rear guards. Formally, in front of the world, Warsaw would be liberated by the Polish army and the entering new invader would be greeted by a sovereign banner planted in a sovereign, free capital.
After the war, Józef Mackiewicz did not join the numerous chorus of critics of the very fact of initiating the Warsaw Uprising in exile, but he accused many Home Army leaders and politicians of the lack of ability to think in the interest of the nation and the state. He had the courage to question authority, such as the former commander of the Home Army, Tadeusz Bor-Komorowski. Mackiewicz did not accept silence in the name of "higher political reasons". His attachment to the truth prevented him from doing so.
Sources:
Dariusz Jarosiński Józef Mackiewicz on the Warsaw Uprising
Translated by Joanna Zawalska